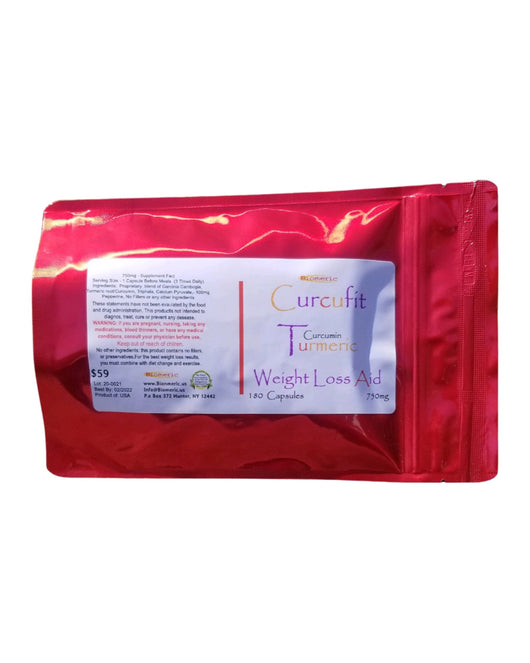 CURCUFIT - Weight Loss Supplement
Turmeric Boss
Regular price $59.00 Sale
180 count  - 750 mg Capsules
The Diet Aid Capsule. 
Serving Size – 1 Capsule Before Meals (3 Times Daily)
Ingredients: Proprietary blend of Garcinia Cambogia, Turmeric Root/Curcumin, Triphala,
Calcium Pyruvate – 100mg
No fillers, preservatives, or any other ingredients
These statements have not been evaluated by the food and drug administration.
This product is not intended to diagnose, treat, cure or prevent any disease.
WARNING: If you are pregnant, nursing, taking any medications, blood thinners, or have any medical conditions, consult your physician before use
Curcufit has 5 amazing ingredients: Curcumin, Black Pepper, Garcinia Cambogia, Calcium Pyruvate and Triphala: all natural weight aid ingredients that make the ideal weight loss supplement.  
 Curcumin: The anti-inflammatory herb that also helps break down unnecessary fat and metabolize the bad fat in the body. Curcumin works as an anti-inflammatory agent, and it may assist your body in metabolizing fat, potentially promoting weight loss. Turmeric is often touted as a fat-burning food additive. Turmeric Lowers Bad Cholesterol, The properties found in turmeric help lower the bad kind of cholesterol, which functions in direct correlation with weight loss. Turmeric Detoxifies the Liver, This is an extremely vital and beneficial way turmeric helps you lose weight. Let me explain. The liver is responsible for many things in the body, including aiding in digestion. By detoxing, the liver will be able to get rid of fat in your body and help you lose weight! Turmeric Improves Digestion It will also help relieve any pain caused by excess bloating after you consume a meal. Turmeric Helps Regulate Your Metabolism.  In relation to weight loss, your metabolism is responsible for taking all the food and drink you consume and turning it into usable energy. When your body is performing these functions, it is burning calories; hence, playing a part in your weight loss.
 Piperine: The Black pepper helps our body absorb the curcumin.
 Garcinia Cambogia: This herb helps raise levels of the brain chemical serotonin, which may makes you feel less hungry, as well as helping your body regulate blood sugar levels and turn carbs and sugar into energy. Thus, helping your  body potentially lose weight.
 Calcium Pyruvate: This Herb may help in losing weight because it assists in the conversion of sugar and starch into energy. This ingredient can potentially boost your metabolism to increase energy levels.  This aids in breaking down excess fat stored in your body.
 Triphala: A group of three Indian fruits (amalaki, haritaki, and bibhitaki) that promote healthy bowels. It's been shown to help lower cholesterol and is loaded with vitamin C. It is believed to have a variety of positive health effects on the heart and brain, which can potentially lead to weight loss.
 Attention: These Statements have not been evaluated by the food and drug administration. Curcufit is not intended to treat, diagnose, cure or prevent any disease.