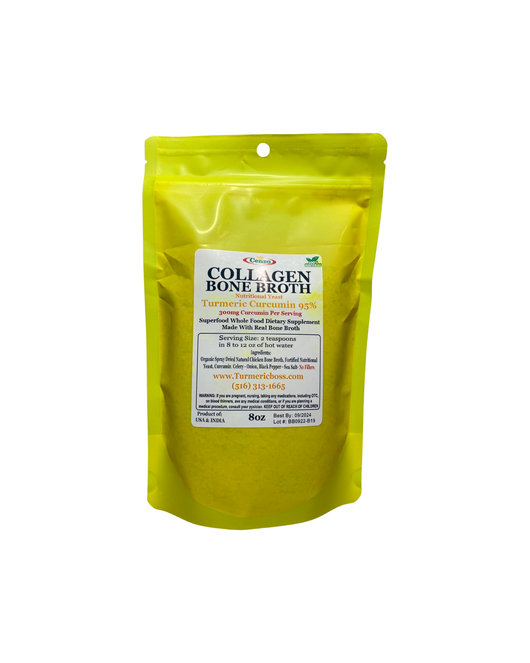 COLLAGEN BONE BROTH WITH CURCUMIN (8 oz)
Turmeric Boss
Regular price $32.00 Sale
Collagen Bone Broth, Nutritional Yeast. Turmeric Curcumin 95% - 300mg Curcumin Per Serving 
2 teaspoons in 8 to 10 oz of hot water
Approx: 40 servings
One Serving has Organic Spray Dried  Natural Chicken Bone Broth, Fortified Nutritional Yeast, Curcumin, Celery powder, Onion powder, Black Pepper and Sea Salt. 
No other ingredients or fillers. 
These statements have not been 
evaluated
 by the FDA or any other 
governmental
 body. 
Our Turmeric Curcumin Collagen Bone Broth is not intended to 
Diagnose
, treat, cure or prevent any disease. If you are to undergo 
surgery
 stop taking turmeric 
at least
 2 weeks before as Turmeric Curcumin is a natural blood thinner, if you are taking any medications please 
consult
 your doctor as this product contains Curcumin which is a natural 
blood
 thinner.